Shorter commutes, proximity to nature and great jobs are drawing people to the Soo from across Canada, and the world
February 16th, 2022
Nestled at the confluence of three of Ontario's Great Lakes – Superior, Huron, and Michigan – Sault Ste. Marie is a city that blurs the line between urban life and the great Canadian outdoors.
No less an outdoorsman than Ernest Hemingway once said that Sault Ste. Marie, or the Soo to those who know and love it, boasted rainbow trout fishing unmatched by any angler's paradise on the planet. Nearly a century later, the Soo's wild surroundings still draw people to the city – from places as far away as Saudi Arabia.
Sherwin and May Lancita's curiosity about Sault Ste. Marie was sparked by lower housing costs and the nursing program offered by Sault College, but watching their three kids flourish in the new environment has been their greatest joy.
"First thing, when we arrived here, they asked for bicycles," says Sherwin, explaining that the kids didn't have the same level of autonomy and freedom to roam when they lived in Saudi Arabia. "Every week we go to the park and play around and [go] biking. They enjoy it a lot."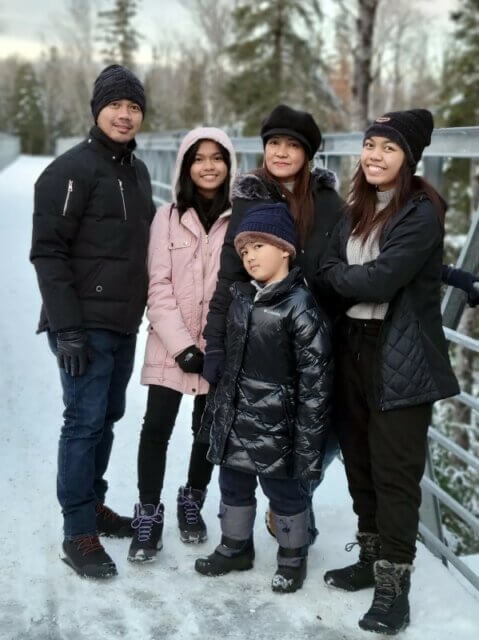 When the Lancita family left Saudi Arabia, they bypassed Toronto and settled in the Soo.
Families who've spent their lives in a big, urban metropolis have, under pandemic lockdowns, begun to rethink and reassess quality of life priorities. Long commutes have been exposed as time wasted. Access to uncrowded outdoor spaces is increasingly important. And quality time with loved ones is paramount.
According to U-Haul's 2021 data on Canadian migration, Sault Ste. Marie is ranked number 12 on the list of the country's top-growing cities. Over the course of the past year the Soo attracted new families from as far east as Halifax through Ottawa, Toronto and Niagara to Calgary, Edmonton and Vancouver in the west, evidence that it's a destination that offers an increasingly in-demand lifestyle.
In general, Sault Ste. Marie is welcoming Ontarians from other parts of the province, but the Lancitas, originally from the Philippines, arrived from the Middle East. Relatives in Toronto had warned them about the high cost of living in the province's capital, so they began to look north. A Google search led them to the Soo and their love of the outdoors cemented the decision.
Caroline Charitonov and her husband Igor arrived from Abbotsford, B.C. where house prices, she says, are "astronomical." They'd driven through the Soo several times en route to visit family in southern Ontario and decided to look into buying up north.
"We looked at a house, we fell in love with it," says Charitonov. "We put an offer in that day [and] they're like, 'Your offer is accepted.' We had 30 days to pack up our entire life and move across the country. We were renting in B.C. so this is our first home."
Like the Lancitas, it was a love of outdoor living that attracted the Charitonovs to Sault Ste. Marie. "When you're driving along Lake Superior, it's just breathtaking," says Charitonov, who explains that the change in work-life balance has allowed her and her husband to spend more time doing what they love.
"There are some waterfalls just as you come into town and there are all these bays that you're driving along. That's what really drew us into this. To be in nature, it's only five minutes. It's 20 minutes up the road to enjoy the white sand, the crystal-clear water. It's so close. I've never experienced anything like this before."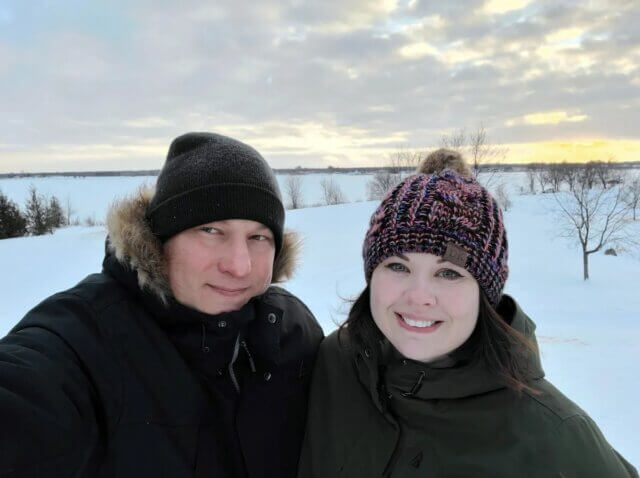 Igor and Caroline Charitonov moved to the city from B.C.
Charitonov says that both she and her husband found jobs in their fields relatively quickly after moving to the Soo. For dentist John Yoon, it was a job that brought him to the city.
"I just graduated dental school this past summer, and I grew up in southern Ontario. I was very flexible in where I wanted to start my career, and the team here at Pim Street impressed me the most," Yoon says. "I heard about all the outdoors activities the Soo has to offer, so that was the biggest draw for me. I definitely have not been disappointed!"
And the city's participation in the Rural and Northern Immigration Pilot project is yet another factor pulling new Canadians north with its job search support for recent arrivals to the country. The pilot is intended to attract skilled foreign workers who want to live and work in Canada to smaller communities across the country -including Sault Ste. Marie- and applicants must meet requirements around education, work experience and language proficiency and, most importantly, must plan to permanently settle in their chosen community.
Both the Charitonovs, who plan on starting a family in the future, and the Lancitas value the extra time they've found in their Sault Ste Marie lives thanks to dramatically shorter commutes between work, home, school and shopping.
"We are family-oriented, we love family time," says May Lancita. "In Saudi Arabia, because the two of us were working, we had a helper in the house. She's the one who [was] taking care of our children while we [were] working. Here we live alone as a family. So, we get to spend more time with the kids, especially me. I am hands-on with them and I really enjoy it. As a mother, this is fulfilling."
No wonder the city quickly felt like home.