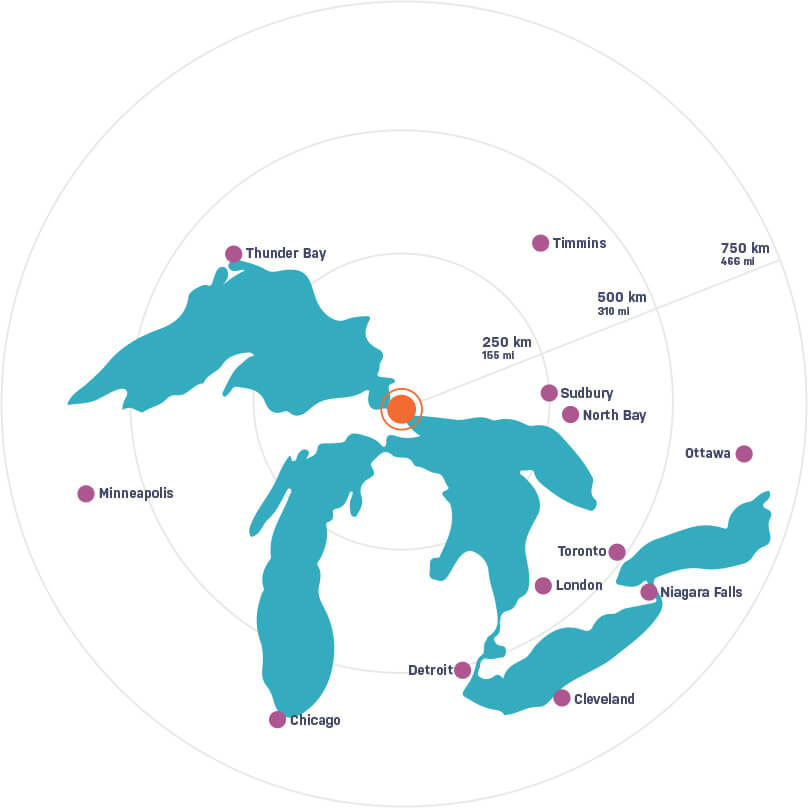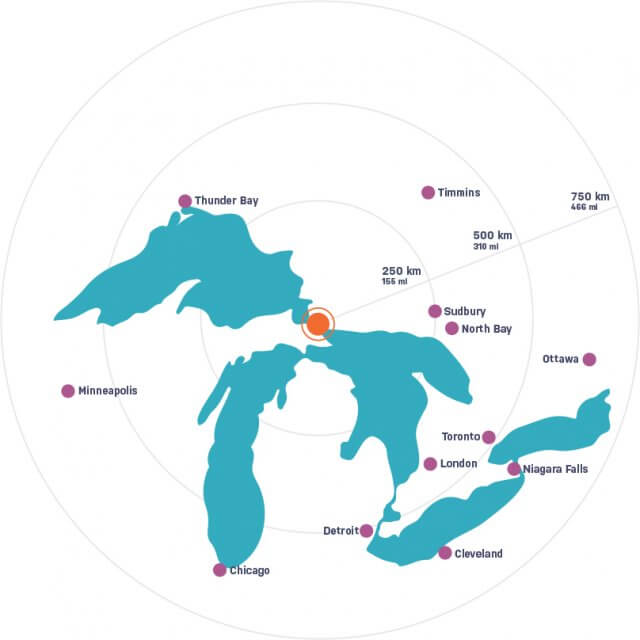 From its rich history and quality-of-life benefits, to its growing economy and competitive advantages for businesses, Sault Ste. Marie is a great place to live, learn, work and play. Download our Why Sault Ste. Marie brochure.
Lower Cost of Doing Business
Sault Ste. Marie offers numerous cost benefits over business operations in larger cities. We offer quality talent and expertise at an affordable rate, low business operating costs and a low cost for land and real estate.
In 2016, Sault Ste. Marie ranked 10th globally out of 111 cities in KPMG's Competitive Alternatives study which examined competitive business cost structure. For more information click here.
Location
Sault Ste. Marie is located at the heart of the great lakes, on the US border and at the heart of Canada. Strategically located on the Trans-Canada Highway, at the northern tip of U.S. Interstate-75, the city's excellent air, highway, marine, rail and telecommunication connections ensure rapid and economical transportation of people, products, raw materials and information which enable convenient and direct multi-modal access to the international marketplace.
We share an uncongested border with the United States, and are the perfect location to access both Canadian and American markets!
Bi-National Community
Sault Ste. Marie, Ontario and Michigan began as one community hundreds of years ago and we remain close trading partners today. We share common resources and a strategic location. We regularly work together on various initiatives and are currently working to develop a bi-national investment zone to promote the region as a whole. With Foreign Trade Zones on both sides of the border, we offer unique solutions.
For an example of how we have worked together to benefit both sides of the border, visit our joint #AmazonNorth bid website here.
Business Support
Sault Ste. Marie offers extensive business support and startup resources. You can count on multiple organizations working together to offer the best service and solutions to your business. Sault Ste. Marie is also home to a Regional Innovation Centre & incubator, business accelerator and Millworks Centre for Entrepreneurship.
Incentives & Funding
Invest Sault Ste. Marie has expertise in accessing the many government funding programs available to qualifying businesses for establishing, relocating or expanding operations. Because of our Northern Ontario location, businesses can access special funding from the $100 million Northern Ontario Heritage Fund, Fednor and more.
Find out how your business can qualify for up to $5 million in incentives!
For more information on incentive and funding programs, visit our Incentive & Programs page, or contact us at invest@cityssm.on.ca.
Quality of Life & Affordable Living
Living here provides the best of many worlds. Sault Ste. Marie is a safe, modern, medium-sized city (73,500) with amenities of larger centres, and is just minutes from nature.  We offer affordable housing, 10 minute commutes, quick access to the USA and a true four-season destination. Enjoy hundreds of KM's of snowmobile, hiking and biking trails, downhill skiing, fishing and hunting -- all within a short drive. Experience Lake Superior, Lake Huron and hundreds of other lakes in the area.
Sault Ste. Marie offers affordable living, where you can enjoy a "big" lifestyle with a small footprint. Compared to Toronto and other large centres, the cost-of-living in Sault Ste. Marie is very affordable. The average cost for a detached single-family home in 2019 was just $182,000 compared to $792,000 in Toronto, $1.4 million in Vancouver and $269,000 in Sudbury, ON. Rental costs are also 50% less than Toronto, and purchasing power more than 28 % higher than in Toronto!
Learn more at www.welcometossm.com and check out more attractions and amenities at Tourism Sault Ste. Marie.
Universal Healthcare
With Ontario's universal, single-payer public health care system, residents are afforded excellent medical care via the OHIP (Ontario Health Insurance Plan) program. Basic services and doctors' appointments are paid for, allowing people to maintain a healthy quality of life without the financial burden. This also means savings for businesses to provide healthcare benefits to their employees.
Algoma Docks (formerly Port of Algoma)
Algoma Docks is strategically located on the St. Mary's River at the tip of Lake Superior, an integral part of the Great Lakes St. Lawrence Seaway System. The location is a pivotal point of connection between Lake Superior, Lake Huron and Lake Michigan. The port is linked to all major multi-modal transportation networks in the region such as class 1 railways (Canadian National and Canadian Pacific) and has direct access to Trans-Canada Highway 17 & the U.S. Interstate 75.
The port is currently the 4th largest port on the Canadian Great Lakes (by volume), handling vessels carrying 5.5 million tonnes of cargo (~500 vessels) per year via its nine docks.
Strategic Location in the Great Lakes Economy
We are located at the centre of the Great Lakes Economy, a highly integrated trading zone that accounts for more than 50% of all U.S./Canadian bilateral border trade and over 200 million tons of cargo shipped annually. The region, made up of 10 U.S. states and two provinces has a GDP of US$6 trillion – making it the third biggest economy in the world. (Source: Council of the Great Lakes Region).