Medical professionals are heading north and hanging out their shingles in Sault Ste. Marie. Here's why
By Toronto Star
August 16th, 2021
For physicians embarking on their careers, the north is calling – and that call is being answered by more and more professionals in the medical field looking for a less stressful, simpler life. Not surprising, the rewards can be great for those willing to leave the big city, head north and settle in Sault Ste. Marie.
For Henry Liu, a 31-year-old plastic surgeon, living in highly populated cities was a way of life. Born in China, he came to Canada with his family at age 7 and grew up in Vancouver. Then he moved to Hamilton for his residency training at McMaster University. It was while he was there that he befriended another resident, who upon completing medical school and residency, accepted a position at Sault Area Hospital in the Soo in 2020.
"When my friend told me her plans to move and practice in Sault Ste. Marie, I was immediately interested in exploring the opportunity for myself, so I contacted Christine Pagnucco and Carrie Stewart in physician recruitment and came up to see how things were," says Dr. Liu. "Sault Ste. Marie was a drive from Toronto but relatively connected by flights. It was close to the water, there was good snowboarding close by, it was naturally beautiful and it offered a quieter lifestyle. I could see myself living there."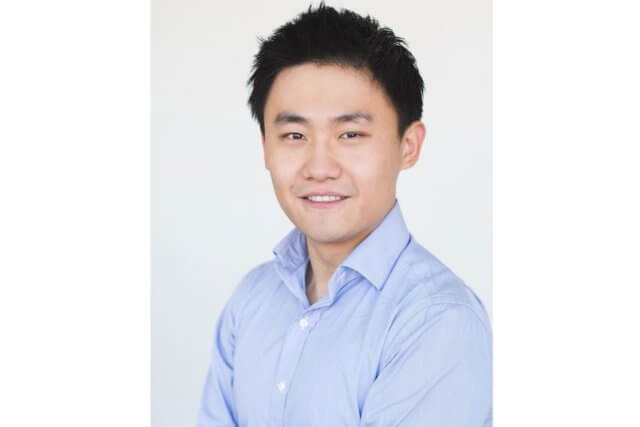 Dr. Liu
Initially, Dr. Liu went up on a two-week elective. "I got to explore the area both on a professional and a personal level. Christine and Carrie set it up for me so I would have lots of great experiences. That's when I knew I loved it and decided to make the move." After several months last summer going back and forth filling in for other doctors on locums, Dr. Liu moved in October, and started his full-time practice.
Now in the Soo for almost a year and four full seasons, he's happier than ever with the decision. After living in a condo for the first few months, he purchased a home on the lake in January. "I love the outdoors and love living on the lake. Just sitting by the water is so nice at the end of a day at work – very peaceful and serene."
Dr. Liu splits his time between doing procedures in the hospital and meeting his patients in his offsite office for consultations. He says the work environment is more relaxed and he really enjoys and the work/life balance, which is "much better for a specialist than in a larger city."
"Patients here are generally very appreciative and they make that explicit. It's very fulfilling for me as a physician to know I'm filling an important need in the community," says Dr. Liu. "And the people I work with in the hospital are so collegial. I really see myself here long-term."
Kiran Waqas, 34, has also discovered the charm and adventure of life in the Soo. A family physician, Dr. Waqas left a big city in Pakistan after completing medical school to follow her husband to a small community in Saskatchewan for his career. While there, Dr. Waqas did her exams, her research and some electives, but when it was time to apply for residency, she chose Sault Ste. Marie.
"My husband and I were from a big city in Pakistan, and we didn't want the hustle and bustle, traffic and stress that comes with that lifestyle," explains Dr. Waqas. "We wanted to live in Ontario, but in a small city that offered all the amenities, and Sault Ste. Marie, with only about 75,000 population, was just the right size. It's beautiful, with so many outdoor activities for our family. And while we've traveled all over Canada, we've never seen anything like the fall colours in Sault Ste. Marie." Fortunately, her husband was also able to successfully relocate.
Parents of three girls, Dr. Waqas and her husband knew it would also be a great place to eventually start her family practice and raise their young family with ample free time to make quality memories.
Like Dr. Liu, Dr. Waqas was able to settle in easily with the help of the physician recruitment team, Carrie and Christine, who "recommended realtors, daycares and schools. I felt like we had family and friends helping us settle in. We would have never had that much help getting settled had we been in a big city." Two years later, after completing her residency, Dr. Waqas started her practice in 2018.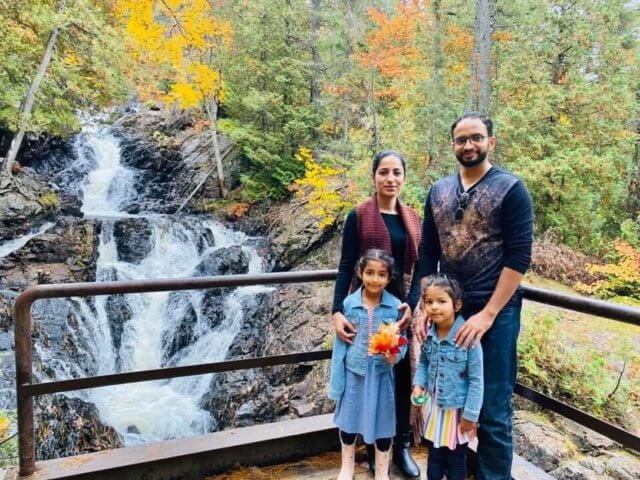 Dr. Kiran Waqas and family
"Our home backs on to the woods, so I feel like we're really out in nature, but my clinic is only five minutes from home. And I'm actually finished my work day by 4:30, so I'm able to be home before the school bus arrives. I never thought as a physician I would be able to work 9 to 5, but here I can do just that." They were easily able to afford a great house, thanks to the low cost of housing and the Ministry of Health incentive of just over $80,000 for four years of practice.
Dr. Waqas and her family have now been in Sault Ste. Marie for five years. "I've been telling my physician friends in the GTA and now many others are considering the move – one has already and says it's like heaven compared to the seven-day work week she was dealing with before," says Dr. Waqas.
As for her future in Sault Ste Marie, Dr. Waqas says, "My husband and I think we may even retire here once our girls are grown and leave to go to university. It's so beautiful here, so peaceful and so good for your mental health. Plus, we can save so much money living here and use that money for traveling – and making great family memories."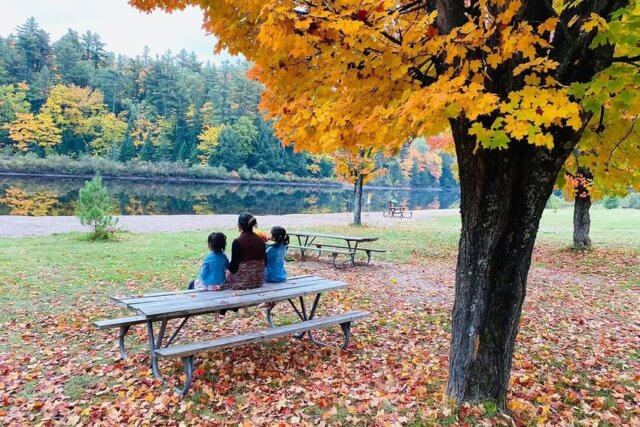 Kinsmen Park, Sault Ste. Marie