Warning: This article could make you move to Sault Ste. Marie
Once you read about the riding and quality of life in the Soo, you'll want to relocate to that city, just like one of our readers did
Once you read about the riding and quality of life in Sault Ste. Marie, you'll want to relocate to that city, just like one of our readers did.
"I've always dreamed about living closer to nature," says Chris Sanger. The teacher based in Mississauga, Ont., had been looking west to British Columbia, but found the costs of such a move were too much. Instead, he discovered what he calls the "Squamish of Ontario" to the north in Sault Ste. Marie, where he and his family now live and ride.
Sanger actually found out about the cycling, hiking and skiing playground that is the Soo in the pages of this magazine. The city wasn't even on his radar until he came across the Canadian Cycling Magazine story in 2022. As Sanger continued his research, he could see the city had a relatively low cost of living. He was impressed by the number of women and kids he saw at riding events via social media and by the close proximity of trails. Once he and his family made the move later in the year, he was drawn into the strong cycling community "People are approachable and really want you to know about each cool little secret riding spot that you should check out," Sanger says. "The community here is tight-knit and welcoming."
Sanger rides XC and gravel, too. This year, he plans to enter some enduro events across the border in Marquette, Mich. In southern Ontario, he never gave much thought to fat bikes. "Here, I need one. The fat bike community is huge," he says. "So I bought one and ride it everyday as my commuter." Both Sanger's wife, Simrit Gill, and his eight-year-old daughter Ria take to the trails. In fact, Ria likes to watch XC events with her dad and thinks it's important that you know she met her favourite rider, Jolanda Neff, at the World Cup in Mont-Sainte-Anne last year. While the cycling and access to nature is key, the city is letting the family flourish in other parts of their lives. Chris continues to teach at the high school level, mostly in woodshop. Simrit has a job at Algoma University as an executive assistant. She, however, has also found she now has the time to also pursue her dream of becoming a habit coach.
People new to Sault Ste. Marie are not the only ones learning how great the place is. Folks returning to the city are rediscovering just how good they had it. "Like many Saulites, after high school, I moved to southern Ontario for school," says Erin Ratelle. "At the time, I think I took for granted some of the great things the Soo had to offer." (It's a refrain Sanger has also heard from other returning locals.) The pandemic and remote work lead Ratelle back to her hometown. "My partner and I quickly became involved with the cycling community," she says. "Everyone is so incredibly welcoming. We're both from here, and yet we've made great new friends within the outdoor community since moving home. It's been a big factor in us choosing to stay in the Soo. Where else can I be a 30-minute drive to beautiful lakes or a 10-minute drive to some of the best hiking, cycling and ski trails in Ontario?"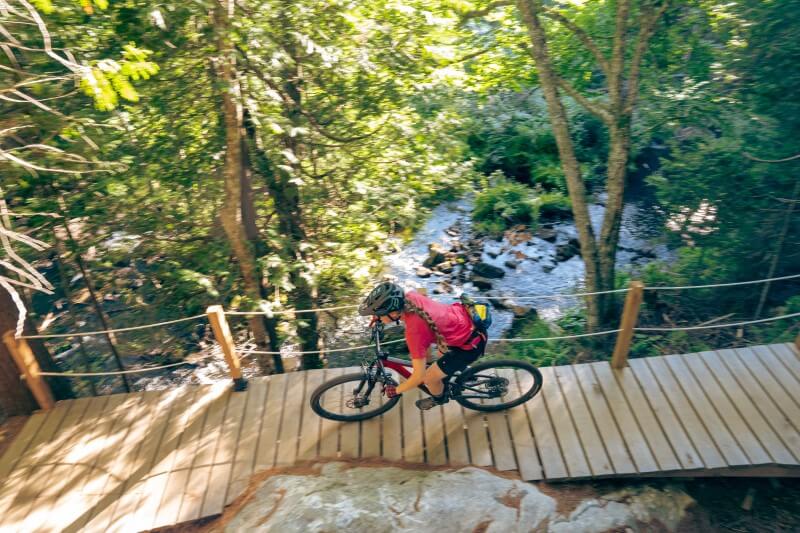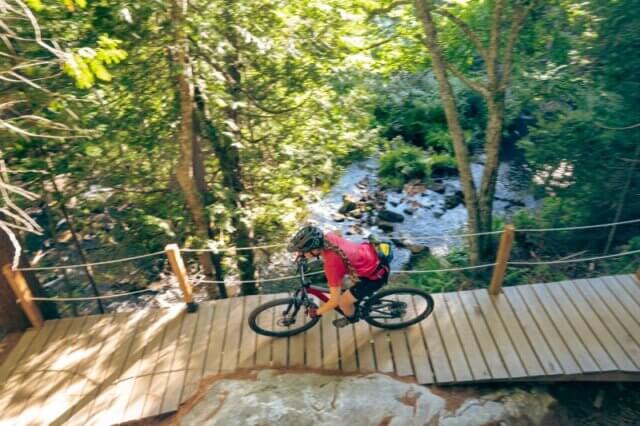 The cycling community is well-established. It includes shops, such as the Algoma Bicycle Company, Vélorution Bike & Ski and Duke of Windsor Sports. The Sault Cycling Club organizes events in all disciplines, puts on kids' mountain bike programming, builds and maintains trails, grooms fat bike trails and does advocacy work. New tours, races and rides keep popping up on the calendar. Multiple local touring companies organize cycling adventures. There are also the folks who have been building trails and growing the sport in the region for years.
"There is a really robust cycling community in Sault Ste. Marie, particularly for a small city," Ratelle says. "There's only around 75,000 people who live here but, for example, on any given Tuesday in the summer there will be 50 to 80 women at Vélorution's Titty Tuesday mountain bike ride, which is super fun whether it's your first time on a mountain bike or you want to go out and shred."
The city, nestled between Lake Huron and Lake Superior on St. Mary's River, provides easy access to scenic road and gravel riding and to a growing list of trails for mountain and fat biking. "I own a gravel bike," Sanger says, "but haven't got it off the trainer yet. But when I do, I know there are a ton of gravel roads here to explore." For mountain biking, the trails of the Hiawatha Highlands are within a 10-minute drive of the city, or six minutes from Sanger's house. Bellevue Valley, about 20-minutes away, is his favourite spot to ride. In-town, cyclists with slicker tires use the 25-km paved multi-use John Rowswell Hub Trail.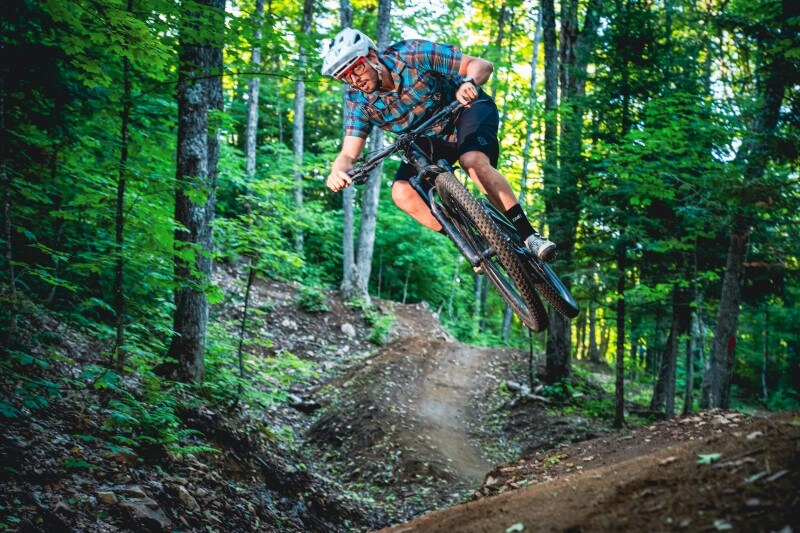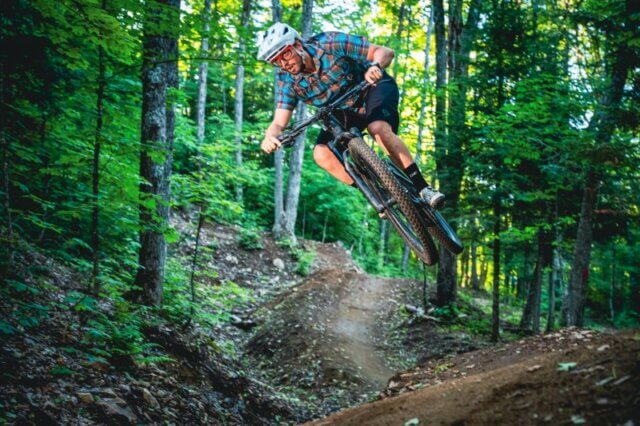 Millions of dollars in cycling investments will continue this year with the goal of establishing Sault Ste. Marie as a premier biking destination. With developments such as more groomed fat biking trails, a 10-km extension of the Farmer Lake Trail system, a new pump track and a 3-km flow trail that will link up with the urban Hub Trail, options and access keep growing.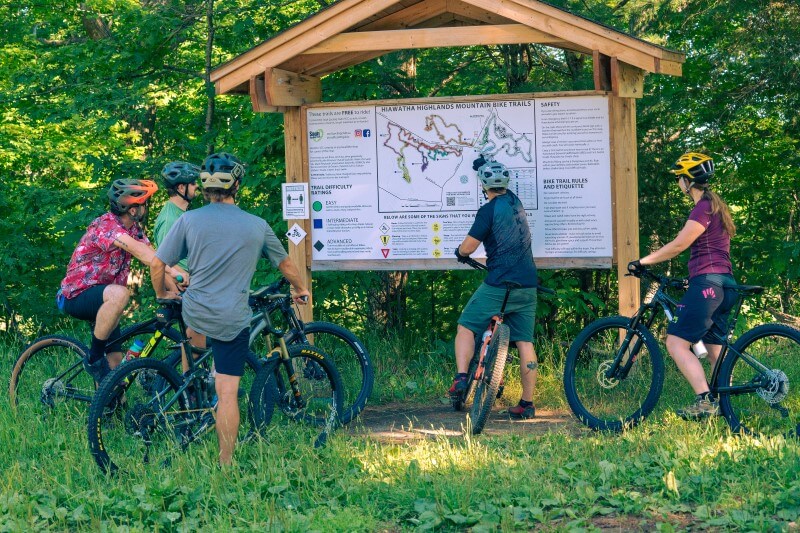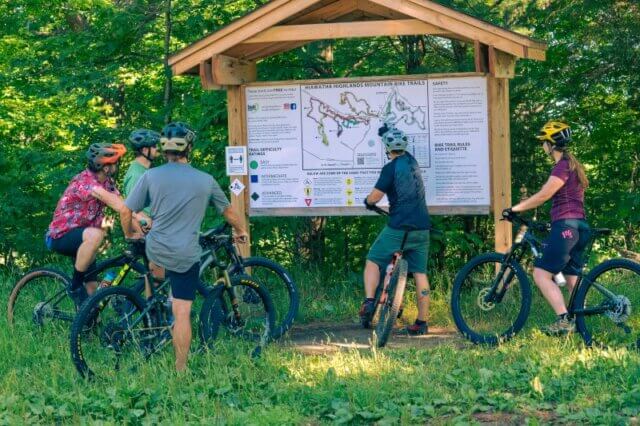 As for Sanger and his family, they continue to enjoy all their new home has to offer, thoroughly. "As of January, we'd only lived here five months and we'd ridden almost weekly," he says. "Even with snow upon us, the riding hadn't slowed down."
Want to head to the Soo? Check out WelcomeToSSM.com for tons of resources, from job listings to what's happening in town. Also check out SaultTourism.com for more info on trail networks, the best cycling spots and other outdoor adventures.