Sault Ste. Marie has a long and fascinating history as one of the oldest French settlements in North America and was at the crossroads of the 3,000-mile fur trade route, which stretched from Montreal to Sault Ste. Marie and to the North country above Lake Superior. This area was originally called Baawitigong, meaning "place of the rapids," by the Ojibwa, who used the site as a regional meeting place during whitefish season in the St. Mary's Rapids.
After the visit of Étienne Brûlé in 1623, the French called it "Sault de Gaston" in honour of Gaston, Duke of Orléans, the brother of King Louis XIII of France. In 1668, French Jesuit missionaries renamed it Sault Sainte Marie, and a fur trading post was established and the settlement expanded to include both sides of the river.
Modern Sault Ste. Marie was founded because of its strategic location in the middle of the Great Lakes. Its industrial history stretches back to 1894 when industrialist F.H. Clergue harnessed the hydropower of the rapids to establish an empire, including a steel company and paper mill. From this time, the community has emerged as a resilient one that enjoys its beautiful surroundings and position as a border community, situated on the international boundary between Ontario and Michigan.
From its rich history and quality-of-life benefits to its growing economy and competitive advantages for businesses, Sault Ste. Marie is a great place to live, learn, work, and play.
The Sault Ste. Marie area has a population of more than 125,000. The community is experiencing unprecedented growth as a result of economic diversification efforts and the city's numerous competitive advantages.
For a more detailed look at Sault Ste. Marie, download our Community Profile.
EDUCATION
Sault Ste. Marie is serviced by three post-secondary institutions, with Algoma University and Sault College in Sault Ste. Marie, Ontario and Lake Superior State University just across the International Bridge in Sault Ste. Marie, Michigan.
With a combined enrollment of over 6,000, Algoma University and Sault College are key contributors to Sault Ste. Marie's workforce. Both institutions offer a wide range of degree and diploma courses in disciplines, such as Digital and Graphic Design, Human Resources, Business, IT and Computer Science, Gaming Technology and Hospitality and the Culinary Arts.
Sault College and Algoma University generate over 1,200 graduates every year who are armed with the skills to succeed.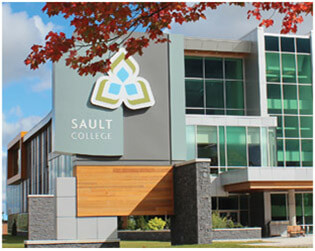 SAULT COLLEGE
Sault College transforms the lives of students through innovative education and training, including 33 diploma programs. Sault College grants Ontario College certificates, diplomas, advanced diplomas, graduate certificates, and degrees to its graduates.
The College is the largest deliverer of apprenticeship training in all of Northern Ontario. Educating over 2,300 full-time and 4,000 part-time students each year, Sault College has a significant economic impact on the community, with spin-offs in excess of $158 million. Over $1.8 million dollars in scholarships, bursaries and awards are distributed annually to students at the College. Located on the border to the United States and situated in the middle of three of the largest Great Lakes on the planet, Sault College is one of 24 publicly-funded colleges in the province of Ontario.
To learn more visit Sault College.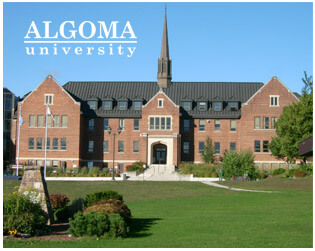 ALGOMA UNIVERSITY
At Algoma University an innovative, interactive learning environment serves a community of over 1,400 students. In addition to small class sizes, students benefit from undergraduate research opportunities, cooperative education, and international exchange programs.
To learn more visit Algoma University.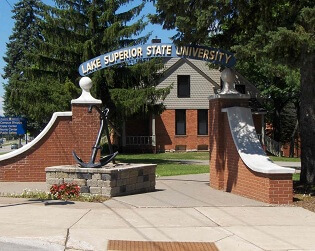 LAKE SUPERIOR STATE UNIVERSITY
Lake Superior State University (LSSU), is a small public university in Sault Ste. Marie, Michigan, with an enrollment of about 3,000 students. With over 90 degree programs, LSSU offers students a wide variety of career paths including business administration, nursing, robotics, engineering and natural sciences.
To learn more visit Lake Superior State University.